Feb
26
Tue
2013
France: Simenon & Maigret, de la gare de Benet aux marais du Mazeau

@ Salle des Arcades, Place du Champ de Foire
Feb 26 @ 17:30 – 19:00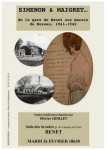 Conférence d'Olivier Chollet sur l'écriture d'un épisode du commissaire Maigret, «L'Inspecteur Cadavre» achevé en mars 1943 et sur le réalisme des personnages (voire de leur identité) à partir de témoignages retrouvés par ses soins au Mazeau entre 1941-1943.
Georges SIMENON installé depuis peu à Saint-Mesmin-le-Vieux (Deux-Sèvres) achève le 3 mars 1943 l'une des 72 aventures du commissaire Maigret, « L'Inspecteur Cadavre ». Le cadre : le marais poitevin. Le lieu du crime : Benet  par où passe la voie ferrée Niort-Fontenay-le-Comte. Le lieu d'investigation : Saint-Aubin-les Marais alias Le Mazeau. Une sinistre histoire dont la genèse  nous plonge dans une période aussi trouble que les eaux stagnantes du marais mouillé en été …
Cette analyse  a pour but d'identifier les lieux auxquels fait allusion l'auteur et de montrer avec quelle précision Simenon est capable d'analyser un microcosme, dans le sillage de Balzac, Maupassant ou Proust. La fiction voile pudiquement  les réalités de la société maraîchine.  Simple voile de tulle laissant tout transparaître… de Le Mazeau et de Benet  en 1942 sous  l'Occupation.
 Je vous propose de suivre à la trace, photos à l'appui, Simenon et de retrouver  à l'occasion quelques uns de vos ancêtres.
Olivier Chollet, PHF, Agrégé d'histoire, Chevalier dans l'ordre des Palmes académiques
Sep
28
Sat
2013
Italy – "Simenon on the road": great cover article (with a great cover!) in La Dominica di Republica on my father's roadtrip across the US in the late 40's.