Oct
3
Wed
2012
Spain: Press trip to Barcelona on the occasion of Simenon's new launch by Acantilado in Spain
Flash return trip to Barcelona today for a series of interviews to mark the re-launch of Simenon in Spain by the prestigious publishing house Acantilado / Quaderns Crema. I look forward to this opportunity to meet its founder, Jaume Vallcorba, whom I appreciate for humor and rigor, and his excellent team. The day promises to be busy.
Jun
9
Sun
2013
Belgique: Assemblée Générale des Amis de Georges Simenon

@ Théâtre Poème
Jun 9 @ 12:30 – 17:30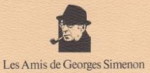 14h30 – 15h00: Bourse d'échanges
15h00 – 15h30: Introduction du Président
15h30 – 16h00: Présentation du Fonds Famille Simenon par John Simenon, son fondateur, Dominique Allard, directeur de la Fondation du Roi Baudoin, et Anne de Breuck, chargée de mission à la même fondation.
16h00 – 16h30: Les Cahiers de l'Herne présentés par Michel Lemoine
16h30 – 17h30: Le prochain livre de Michel Carly édité par Les Amis de Georges Simenon en fin d'année: Nouveaux regards sur les romans durs. Interview par Jean-Baptiste Baronian sur le thème: «Heureuses surprises d'un chercheur simenonien en archives».
17h30 – 18h00: Pause
18h00 – 18h45: Projection et comparaison d'extraits de trois versions de Picpus. Débat.
18h45 – 19h15: Les Maigret sous-jacents dans les films de Henri-Georges Clouzot. Projection et présentation par Michel Schepens.
19h15 – 19h30: Clôture
19h30 – 22h00 Cocktail et repas