Jun
9
Sun
2013
Belgique: Assemblée Générale des Amis de Georges Simenon

@ Théâtre Poème
Jun 9 @ 12:30 – 17:30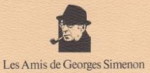 14h30 – 15h00: Bourse d'échanges
15h00 – 15h30: Introduction du Président
15h30 – 16h00: Présentation du Fonds Famille Simenon par John Simenon, son fondateur, Dominique Allard, directeur de la Fondation du Roi Baudoin, et Anne de Breuck, chargée de mission à la même fondation.
16h00 – 16h30: Les Cahiers de l'Herne présentés par Michel Lemoine
16h30 – 17h30: Le prochain livre de Michel Carly édité par Les Amis de Georges Simenon en fin d'année: Nouveaux regards sur les romans durs. Interview par Jean-Baptiste Baronian sur le thème: «Heureuses surprises d'un chercheur simenonien en archives».
17h30 – 18h00: Pause
18h00 – 18h45: Projection et comparaison d'extraits de trois versions de Picpus. Débat.
18h45 – 19h15: Les Maigret sous-jacents dans les films de Henri-Georges Clouzot. Projection et présentation par Michel Schepens.
19h15 – 19h30: Clôture
19h30 – 22h00 Cocktail et repas
Nov
10
Mon
2014
Israel: Pietr-le-Letton, paper publication
Pietr-le-Letton
Jumeaux et escroquerie…
La police internationale signale l'arrivée à Paris du célèbre escroc Pietr-le-Letton. Maigret le file dès sa descente du rapide L'Étoile-du-Nord. Mais alors que le suspect se rend à l'hôtel Majestic, on découvre dans le train un cadavre qui est son sosie. Tandis que Pietr prend de mystérieux contacts avec un milliardaire américain, M. Mortimer-Levingston, l'enquête sur le meurtre conduit Maigret à Fécamp, où il l'aperçoit, sortant de la villa d'une certaine Mme Swaan…
Twins and scam …
International police report the arrival in Paris of famous crook Pietr-le-Latvian. Maigret tails him from the moment of his arrival on the Northern Star. But while the suspect goes to the Hotel Majestic, a dead lookalike is found on the train. While Pietr mysteriously contacts American billionaire Mortimer-Levingston, the investigation into the murder leads Maigret to Fécamp, where he sees Pietr coming out of the house of a certain Mrs. Swaan …
Apr
20
Mon
2015
Israel: La Tête d'un homme, paper publication
La Tete d'un homme
Machiavel en anarchiste…
Le 7 juillet, à Saint-Cloud, Mme Henderson, riche veuve américaine, et sa femme de chambre ont été sauvagement assassinées. La police arrête Joseph Heurtin, livreur, qui a laissé ses empreintes sur le lieu du crime. Reconnu sain d'esprit, Heurtin est condamné à mort le 2 octobre. Or, pour Maigret, Heurtin est fou ou innocent. Pour le sauver de la guillotine, le commissaire obtient des autorités judiciaires de le faire évader.
Anarchist Machiavelli …
On July 7, in St. Cloud, Mrs. Henderson, a rich American widow, and her maid were brutally murdered. The police arrest Joseph Heurtin, a deliveryman, who left his fingerprints at the crime scene. Recognized as sane, Heurtin is sentenced to death on October 2. But for Maigret, Heurtin is either mad or innocent. To save him from the guillotine, the Commissioner obtains from judicial authorities the authorization to help him escape.