Mar
19
Tue
2013
Italy: La Chambre bleue: new audiobook publication (La camera azzura) read by Claudio Santamaria
Claudio Santamaria is also known for his roles in Diaz: Don't Clean Up This Blood (2012), Casino Royale (2006), Romanzo criminale (2005), The Last Kiss (2001)
Victime d'un faux témoignage
Tony Falcone et Andrée Despierre, qui s'étaient perdus de vue depuis la fin de leur enfance, sont devenus amants un soir de septembre. Au cours des mois suivants, ils se retrouvent huit fois dans la « chambre bleue » à l'Hôtel des Voyageurs, tenu par le frère de Tony. Un jour, il s'en faut de peu que le mari d'Andrée ne surprenne, par hasard, les amants.
Victim of false testimony
Tony Falcone and Andrée Despierre who had lost sight of each-other since the end of their childhood, become lovers on a September evening. Over the following months, they meet eight times in the "blue room" at the Hotel des Voyageurs, run by Tony's brother. One day, Andrée's husband almost catches the lovers.
Jun
9
Sun
2013
Belgique: Assemblée Générale des Amis de Georges Simenon

@ Théâtre Poème
Jun 9 @ 12:30 – 17:30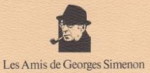 14h30 – 15h00: Bourse d'échanges
15h00 – 15h30: Introduction du Président
15h30 – 16h00: Présentation du Fonds Famille Simenon par John Simenon, son fondateur, Dominique Allard, directeur de la Fondation du Roi Baudoin, et Anne de Breuck, chargée de mission à la même fondation.
16h00 – 16h30: Les Cahiers de l'Herne présentés par Michel Lemoine
16h30 – 17h30: Le prochain livre de Michel Carly édité par Les Amis de Georges Simenon en fin d'année: Nouveaux regards sur les romans durs. Interview par Jean-Baptiste Baronian sur le thème: «Heureuses surprises d'un chercheur simenonien en archives».
17h30 – 18h00: Pause
18h00 – 18h45: Projection et comparaison d'extraits de trois versions de Picpus. Débat.
18h45 – 19h15: Les Maigret sous-jacents dans les films de Henri-Georges Clouzot. Projection et présentation par Michel Schepens.
19h15 – 19h30: Clôture
19h30 – 22h00 Cocktail et repas