Oct
4
Thu
2012
Spain: Le Chat, new paper publication – NEW translation (Castillian: El gato; Catalan: El gat)
L'enfer sur terre
Émile, ancien ouvrier au naturel bourru, est un homme sans détour. Marguerite, à l'opposé, est une femme délicate, d'une douceur affectée, sournoise et avare. Elle provient d'une famille de propriétaires, dont on démolit les nombreux immeubles dans le quartier. Ils étaient voisins, tous deux veufs, et se sont mariés, lui à 65 ans, elle à 63, peut-être par peur de la solitude. Leur incompatibilité de tempérament ne tarde pas à se muer en sourde hostilité. Joseph, le chat d'Émile que Marguerite n'a jamais accepté, disparaît.
Hell on earth
Emile, a former worker, is a gruff and direct man. Marguerite, in contrast, is a delicate woman with an affected sweetness, cunning and greedy. She comes from a family of property owners, whose many buildings are being demolished in the neighborhood. They are neighbors, both widowed, and marry, he at age 65, she at 63, perhaps for fear of loneliness. Their temperament mismatch soon turns into muted hostility. Joseph, Emile's cat that Marguerite never accepted, disappears.
Nov
8
Thu
2012
Spain – Le Chien jaune: new paper publication (Castillian: El perro canelo; Catalan: El gos groc)
Des notables peu recommandables…
Concarneau, un soir sinistre de novembre. Les familiers de l'hôtel de l'Amiral se retrouvent pour jouer aux cartes. Quand l'un d'eux meurt par balle, qu'un autre disparaît et que le dernier est empoisonné, le Commissaire Maigret est appelé pour résoudre ces mystères. D'autant qu'à chaque meurtre, un étrange chien jaune rôde sur les lieux… Subtil décrypteur de l'âme humaine, Maigret parviendra à ses fins en s'immergeant dans ce groupe d'habitués où grouillent secrets et non dits. Une des premières enquêtes du commissaire mondialement célèbre.
Unsavory notables …
Concarneau, a grim November night. The regulars at the Hotel de l'Admiral gather to play cards. When one of them is shot dead, another disappears, and a last one is poisoned, Commissioner Maigret is called to solve the mysteries. And these grow thicker as during each murder, a strange yellow dog was seen prowling the scene… A subtle descrambler of the human soul, Maigret reaches his purposes by immersing himself with the group of regulars among whom secrets swarm. One of the first investigations by the famous Commissioner.
Jun
9
Sun
2013
Belgique: Assemblée Générale des Amis de Georges Simenon

@ Théâtre Poème
Jun 9 @ 12:30 – 17:30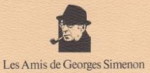 14h30 – 15h00: Bourse d'échanges
15h00 – 15h30: Introduction du Président
15h30 – 16h00: Présentation du Fonds Famille Simenon par John Simenon, son fondateur, Dominique Allard, directeur de la Fondation du Roi Baudoin, et Anne de Breuck, chargée de mission à la même fondation.
16h00 – 16h30: Les Cahiers de l'Herne présentés par Michel Lemoine
16h30 – 17h30: Le prochain livre de Michel Carly édité par Les Amis de Georges Simenon en fin d'année: Nouveaux regards sur les romans durs. Interview par Jean-Baptiste Baronian sur le thème: «Heureuses surprises d'un chercheur simenonien en archives».
17h30 – 18h00: Pause
18h00 – 18h45: Projection et comparaison d'extraits de trois versions de Picpus. Débat.
18h45 – 19h15: Les Maigret sous-jacents dans les films de Henri-Georges Clouzot. Projection et présentation par Michel Schepens.
19h15 – 19h30: Clôture
19h30 – 22h00 Cocktail et repas