In early 2012, I was approached by Tommaso Calamita and Fiammetta Jahier, leaders of a young Italian "Indie Noir Rock'n'Roll Band", as they describe themselves, who, out of admiration for my father's work, were asking for the permission to christen their band "Bébé Donge" (from "La Vérité sur Bébé Donge"), and to create a graphic novel adaptation of the book to accompany the release of their album.
Now, after more than a year, Baby Zoe was born, 12 song have been written, their web site and Facebook page are operational, and on May 30 they won the MusicaLuce 2013 award which they received during the "Nastri d'Argento 2013" (the second oldest set of film awards in the world after the Oscars) for the video clip of "Il Matrimonio", one of the songs in the album.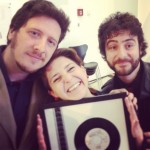 From L to R: Gianfilippo Guadano, director of the video "Il matrimonio", Fiammetta Jahier and Francesco Pradella, the drummer of the band.
Another clip is also completed for the song "Sono Sola", using excerpts from the first Bébé Donge film with Jean Gabin, and they are working with graphic artist Maurizio Ribichini on the graphic novel, for a planned release together with the album in the fall of this year.
Tommaso adds:
"… Last but not least, we're officially invited to present our work (interaction between indie music, graphic novel and video) during an international conference (Echi d'Oltremare: Italy and the Mediterranean…Interactions and Intersections -) that will take place in Rome at the Università di Roma Tre on June 14th. We are spreading Bébé's words everywhere!"
I look forward to meeting them during my next trip to Rome, and please join me in congratulating them and wishing them the best of luck.